CarShop vs Norwich Sports Park – who came out on top?
With temperatures topping 27 degrees, 10 brave athletes from CarShop dared to take on the team at Norwich Sports Park.
Proudly supporting them for 4 years, we spent the day there putting our skills against the athletes in the Sports Park who had prepared a whole succession of challenges so we could go head to head.
Our support means that the Sports Park can be a place where the local community can come together and have fun, get fit and enjoy facilities that might otherwise not be available. Plus, it also gives the Sports Park the opportunity to help aspiring local athletes reach their full potential.
The challenges
Goggle football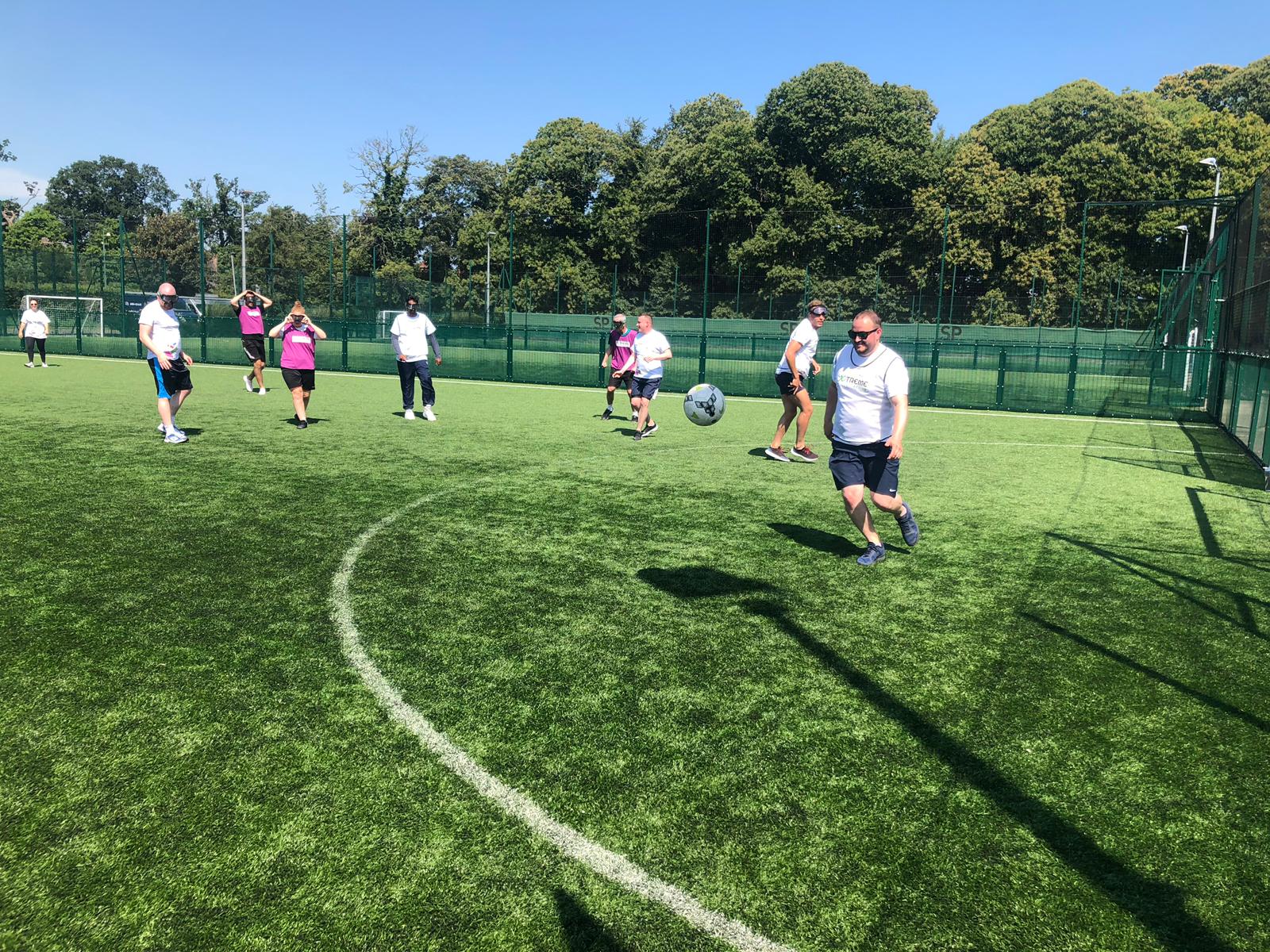 To start off the day, we were going to play football.
If only it was that easy.
We were given goggles with a twist. One pair made it seem like you'd had 4 beers, and one seemed like you had 8!
We started off running to go and get a bib, put it on and run back to our team mates –the quickest time won. Followed on by dribbling a ball around some cones and then piggy in the middle with goggles.
Finally, they wanted us to play 7 aside like that!
A few of the players didn't have the goggles on, but they weren't allowed to score – safe to say that reflected in the final scores.
Quick cricket
Next up on the agenda was quick cricket.
This had all the same fundamentals as cricket with a much smaller area, and points added or taken away depending on runs and how far you could hit the ball.
We started off with 200 points each…. and the results were to be expected:
Ping-pong
We enjoyed this one – mainly because it was in an air conditioned room.
We did a relay. It was CarShop vs. Sports Park, winner stays on for a maximum of 3 points and whoever got first to 21 won.
We did a lot better this time… but were still no match for the Sports Park.
School sports day
We were back on the track for the last challenge of the day. This was a multitude of races that had been set up for us, and included:
·        Skipping race
·        Bean bag on head
·        Sack race
·        Egg and spoon race
·        Space hopper race
·        Link relay race
To top off the school sports day activities, we had a tug of war.
This is where CarShop clawed a few points back!
Girls against girls – we won.
Girls and boys – we won.
We won't mention the boys and boys…
Special guest
The highlight of the day was the special guest. Local sporting hero Iona Lake came to greet us and told us how much the Sports Park had supported her in her career and how much the sponsorship for CarShop has meant.
She said: "The Norfolk Sports Academy has provided me invaluable support during a crucial time in my transition to senior athletics. Returning from the US in 2016, I was without funding and I lacked the motivation to continue with my sport. The NSA provided me with access to great facilities at the Sports Park and some funding which meant I could access sports massage and physio when I needed them, not when I could afford them.
"It also introduced me to other likeminded athletes in Norfolk who were all working towards the same goals. The NSA can only happen because of support from great businesses in Norfolk that make it all possible.  I honestly cannot thank the CarShop enough for supporting the programme, as without it, I don't think I could have made the Commonwealth Games last year.  It was great to meet some of the people that make it all possible today, and I cannot thank you enough!"
Andy Knight, Brand Experience Manager at CarShop Norwich said: "We all had an absolutely brilliant day going head to head with the Sports Park team. They really pulled out all the stops to make us feel welcome and even arranged for us to meet local hero, Iona Lake, which was a very nice surprise.
"Our partnership with the Sports Park is very important to us at CarShop Norwich. Most of our colleagues and customers are locals, making up the thriving community that we have here. When the opportunity to partner with the Sports Park came up a few years back, we jumped at the chance. It's a great way that we as CarShop can support locally and add something a little more to our community. We couldn't be prouder of it."